CanadianPharmacyWorld.com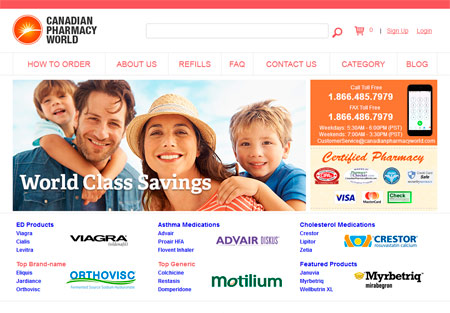 | | |
| --- | --- |
| Company Name: | Canadian Pharmacy World |
| Year of Creation: | 2006 |
| Available Stock: | Erectile Dysfunction, Acne, Allergy, Cancer, Birt Control |
| Payment Options: | Visa, MasterCard, Echeck, Wire Transfer |
| Shipping Options: | Regular Airmail |
| Company Location: | Seychelles |
| Phone Number: | +1-866-485-7979 |
| Do they send spam?: | Yes |
| Is Discount Available?: | Yes |
User Reviews
Buy elsewhere!
★☆☆☆☆
"
Ordered medication 2 weeks ago and still waiting! Emailed last week with no response, and still no delivery! Order status is still processing! Buy elsewhere!
"
NO customer service
★☆☆☆☆
"
I put one star but I really wouldn't put any star. They have NO customer service. Yesterday I called them and was put on hold for 30 minutes. Today it's the same. I will never order from them again!!! AVOID!
"
The worst customer service
★☆☆☆☆
"
The worst customer service. Send they several messages asking to specify the status of my order. No reply!
"
Excellent service
★★★★★
"
This pharmacy has provided excellent service, accepted my coupon code, without any issues and delivery was as promised
"
Lack of customer support
★☆☆☆☆
"
I'd give CanadianPharmacyWorld.com less than one star if I could. Placed an order 2 weeks ago, still waiting for my product! Tried to call them multiple times yesterday. Held for 30+ minutes each time. Never got a response or even an opportunity to leave a voicemail.
"
Awful website!
★☆☆☆☆
"
It seems that I will never stop getting their e-mails, even if declare them spam. This is getting on my nerves! Never use this website for ordering meds!
"
Highly recommended pharmacy
★★★★★
"
This is a fully accredited pharmacy with great prices. You have to send your Rx to be able to order and this proves that they can be trusted! Their website also has a blog section that contains various articles on relevant health-related topics, and I've managed to find there a lot of useful information.
"
Reliable pharmacy
★★★★★
"
I've used Canadian Pharmacy World three times and been always satisfied with the prompt delivery and low prices. I always scan my prescription and upload it online. No problems! It's much better than faxing!
"
Not recommended website!
★★☆☆☆
"
I placed an order, sent a prescription, waited for my parcel to arrive, 3 weeks later I called them asking where my drugs were and they answered they didn't receive my faxed prescription. I sent them a fax confirmation and they checked their fax machine. It turned out that they DID receive it. They did not even apologize for their mistake, just said I had to wait other 3 weeks to get my medications. I canceled the order. Find another store!
"
Stay away from them!
★☆☆☆☆
"
They gave me numerous emails and calls to verify my identity, promised I would receive my parcel in 10 days but 3 days later said the drug was not in stock!!! This pharmacy is not an option for ordering meds.
"
Worst pharmacy ever!!!
★☆☆☆☆
"
This is the worst pharmacy I've ever met. They do not respond messages or calls saying that they are very busy. Well, they should probably employ more people! They processed my payment 3 weeks and told me I would receive my medications in another 2-3 weeks. It's too slow! When I asked them to cancel my order, they said it was impossible.
"